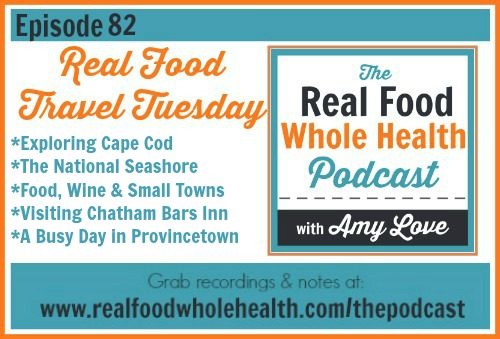 In this Travel Tuesdays episode, join us as we explore Cape Cod, Massachusetts. We start with giving you an overview of the sections of the Cape, and share our favorite spots for food, wine (and rum!), chat about visiting the National Seashore and surrounding beaches, the low-down on our favorite luxury resort, Chatham Bars Inn, a side trip to Plymouth Rock and discovering busy (and deliciously artsy) Provincetown.
[player]
From this episode:
RV Resort: Atlantic Oaks Campground, Eastham, MA
Restaurant: Rock Harbor Grill, Orleans, MA
Restaurant: Hot Chocolate Sparrow, Orleans, MA
Restaurant: The Knack, Orleans, MA
Ice Cream: Local Scoop, Orleans, MA
Sightseeing: Cape Cod National Seashore
Sightseeing: Marconi Station and Marconi Beach
Sightseeing: First Encounter Beach, Eastham MA
Sightseeing: Nauset Light, Eastham MA
Restaurant: Nauset Beach Club, Orleans MA
Restaurant: Zia Pizzeria, Orleans, MA
Sightseeing: Coast Guard Beach, Eastham, MA
Sightseeing: Eastham Windmill, Eastham MA
Sightseeing: Wellfleet, MA and Wellfleet Harbor
Restaurant: The Bookstore, Wellfleet, MA
Restaurant: Mac's Shack, Wellfleet, MA
Wine Tasting: Truro Vineyards, Truro, MA
Rum Tasting: South Hollow Spirits, Truro MA
Shop: Atlantic Spice Co, Truro MA
Sightseeing: Provincetown, MA
Sightseeing: Pilgrim Tower, Provincetown MA
Sightseeing: Provincetown Art Association and Museum, Provincetown MA
Shop: Northern Lights Hammocks, Provincetown MA
Coffee: Wired Puppy, Provincetown MA
Restaurant: The Canteen, Provincetown MA
Restaurant: Jimmy's Hideaway, Provincetown MA
Shop: Great Cape Herbs, Brewster, MA
Coffee: Snowy Owl Coffee Roasters, Brewster, MA
Restaurant: Pizza Barbone, Hyannis, MA
Sightseeing: Kennedy Compound, Hyannis Port MA
Shop: Whole Foods, Hyannis MA
Shop: Trader Joe's, Hyannis MA
Sightseeing: Martha's Vineyard
Sightseeing: Nantucket
Sightseeing: Falmouth, MA and Woods Hole, MA
Sightseeing: Rock Harbor, Orleans MA
Sightseeing: Chatham, MA
Resort: Chatham Bars Inn, Chatham MA
Restaurant: Stars at Chatham Bars Inn, Chatham MA
Restaurant: The Sacred Cod, Chatham Bars Inn, Chatham MA
Restaurant: The Belfry Inn and Bistro, Sandwich MA
Sightseeing: Sandwich, MA
Shop: Nonna Elena's, East Sandwich, MA
Sightseeing: Plymouth, MA
Sightseeing: Plymouth Rock, Plymouth MA
Sightseeing: Plimouth Grist Mill at Jenney Pond, Plymouth MA
Sightseeing: Mayflower II, Plymouth, MA
Enter your email in the box below to join our community (it's FREE!) and you'll be the first to hear about new episodes, discounts, VIP access and more.
Don't forget to join the discussion on our Facebook page
Keep up with our food and travel photos on Instagram
Have a Question? Submit a question for us to answer on the podcast: click here
Check out our other podcast episodes: click here
Like this episode? Thanks! Please share it with your friends using the social media buttons at the top and bottom of the post, or directly from the "share" feature on the podcast player, above. You can also subscribe to the podcast on iTunes right from the player above, too. We'd also appreciate a (hopefully five star!) review on iTunes- it helps us spread the message about real food and natural health to more people!
Disclaimer: Please remember that all information contained in our podcast, posts, on our website and in any and all materials is for information purposes only and not a substitute for medical advice. This information has not evaluated by the FDA and is not intended to prevent, diagnose, treat or cure any condition. Our posts and website may contain affiliate links. If you purchase something by clicking on the link, we may receive a small commission from the retailer, at no cost to you whatsoever. Real Food Whole Health is a participant in the Amazon Services LLC Associates Program, an affiliate advertising program designed to provide a means for sites to earn advertising fees by advertising and linking to Amazon.com. This helps support our blogging activities and keeps us able to provide free content for you. Thanks for your support!
Save
Save