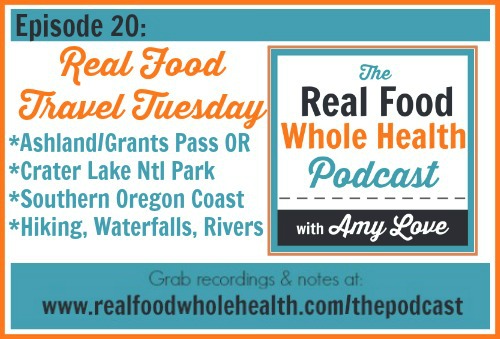 In this Travel Tuesdays episode, travel with us to Southern Oregon! We visit Ashland and Grant's Pass, explore the amazing Crater Lake National Park, drive the Southern Oregon Coast and discover endless waterfalls, rivers, mossy forests and beautiful hiking spots!
[player]
From this episode:
RV Park: Riverpark RV Resort, Grant's Pass, Oregon
Restaurant: Taprock Northwest Grill, Grant's Pass, Oregon
Restaurant: Dutch Bros Coffee, Grant's Pass, Oregon
Restaurant: MaMosa's, Grant's Pass, Oregon
Restaurant: Standing Stone Brewery, Ashland, Oregon
Restaurant: Taj Indian Restaurant, Ashland, Oregon
Shop: Restoration Beauty, Organic Salon, Grant's Pass, Oregon
Sightseeing: Umpqua National Forest
Sightseeing: Crater Lake National Park
Sightseeing: Diamond Lake
Sightseeing: Mt Thielsen
Sightseeing: Rogue River Gorge, Prospect, OR
Sightseeing: Mill Creek Falls, Prospect, OR
Sightseeing: Avenue of the Giant Boulders, Prospect, OR
Sightseeing: Lithia Park, Ashland OR
Restaurant: The Haul, Grant's Pass, Oregon
Restaurant: Rogue Roasters Coffee, Grant's Pass, Oregon
Store: Gooseberries Natural Foods, Grant's Pass, Oregon
Product: Humm Kombucha
Restaurant: The Vine, Grant's Pass, Oregon
Sightseeing: Smith River Canyon
Sightseeing: Jedediah State Park
Restaurant: Oxenfre, Brookings, OR
Sightseeing: Harris Beach
Sightseeing: Samuel Boardman State Park
Sightseeing: House Rock
Sightseeing: Natural Bridge Formations Hiking Trail
Sightseeing: Arch Rock
Sightseeing: West Coast Game Park Safari Animal Refuge
Sightseeing: Bandon Beach
Sightseeing: Alloro Wine Bar, Bandon, OR
Enter your email in the box below to join our community (it's FREE!) and you'll be the first to hear about new episodes, discounts, VIP access and more.
Don't forget to join the discussion on our Facebook page
Keep up with our food and travel photos on Instagram
Have a Question? Submit a question for us to answer on the podcast: click here
Check out our other podcast episodes: click here
Like this episode? Thanks! Please share it with your friends using the social media buttons at the top and bottom of the post, or directly from the "share" feature on the podcast player, above. You can also subscribe to the podcast on iTunes right from the player above, too. We'd also appreciate a (hopefully five star!) review on iTunes- it helps us spread the message about real food and natural health to more people!
Disclaimer: Please remember that all information contained in our podcast, posts, on our website and in any and all materials is for information purposes only and not a substitute for medical advice. This information has not evaluated by the FDA and is not intended to prevent, diagnose, treat or cure any condition. Our posts and website may contain affiliate links. If you purchase something by clicking on the link, we may receive a small commission from the retailer, at no cost to you whatsoever. This helps support our blogging activities and keeps us able to provide free content for you. Thanks for your support!