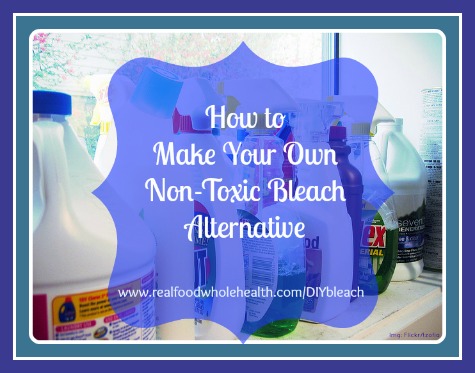 Regular chlorine bleach is no picnic to use in the home. It's pretty toxic stuff, and when combined with other common household items (like ammonia, certain soaps and some organic (natural) materials) it can form highly toxic (sometimes fatal) gases/substances.
We haven't used bleach in a long time.
So what do we use for cleaning? How do we keep whites their whitest?
We used to rely on store-bought, natural oxygen bleach, which is pretty effective but it can be pricey. Plus, it's packaged in plastic bottles which aren't refillable (at the store) and create extra waste.
So, now we make our own bleach alternative that can be used in the laundry OR put in a spray bottle for cleaning. It has just THREE ingredients- and you probably have everything on hand right now.
Want to make your own natural, non-toxic bleach alternative? Great! And you're in luck, because it's super easy!
Just mix: 3 quarts fresh water (spring water is best) with 1/4 cup lemon juice (fresh is best, but the bottled stuff works in a pinch) and add 1 cup hydrogen peroxide (the kind that you find at the drugstore).
We store it in a half gallon glass jar for use in the laundry (adding about 1 1/2-2 cups per load of whites) and in a spray bottle for cleaning the kitchen and bathrooms.
It smells fresh and clean and doesn't contain harmful ingredients or create toxic fumes. Remember, clean doesn't smell like chemicals- chemicals smell like chemicals!
Want a color-friendly version? Sub white vinegar for the peroxide. You might still want to test it on a smaller load or with certain fabrics, but I've found it to be pretty universal.
What natural cleaners do you use in your home? Have you tried natural bleach alternatives?