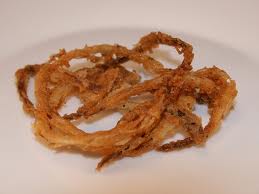 Onion rings, strings or "nests" are fantastic under grass-fed burger patties, eggs or even on their own. You don't have to form a nest- and then you would just have fried onion rings or strings. These are great toppers for said burger patties, or casseroles (especially green bean casseroles at Thanksgiving!) or as a great french-fry substitute. It really feels like sort of a "cheat food" and it's really not… The best part? It's incredibly simple and fast.
Gluten Free Onion Rings
by Amy Love, Real Food Whole Health
1/4 cup (or so) organic ghee (or coconut oil)
1 large onion, organic is best
2 TBL arrowroot powder (could probably sub non-GMO cornstarch or tapioca starch)
Unrefined sea salt
Freshly ground black pepper
Organic garlic powder (or granulated garlic)
Other spices as desired
Coarse sea salt for finishing
In a large skillet (very important these have room to spread out), over medium high heat, melt ghee. Meanwhile, slice onion so that the slices will separate into individual rings, or strips if you are making nests. (Cut in half lengthwise, then lay the half cut side down and cut legthwise again into thin strips, then separate the layers) Toss onion pieces with arrowroot powder and season with salt, pepper and garlic powder. Feel free to use any other spices you'd like, like Cajun or a dash or cayenne.  Toss to mix well.
When ghee is quite hot, test by placing on onion strand in and see if it bubbles around it, add in your onion pieces. You want them to have room to spread out at this point as they will not get crispy if all bunched together. You might work in batches, making smaller nests, or just lots of strings. (the nests are made in the pan, not afterwards, so keep that in mind). Using a spatula, flip over the onions so that both sides get golden brown. If making a nest, swirl together a group of onions (they will be fairly sticky from the arrowroot powder) and sort of mash it gently together. It should stick fairly readily. When browned to your liking, remove from the pan to a paper towel covered plate. Sprinkle with coarse sea salt as desired.
*NOTES
It is important to cut your onion as you are making this dish, and not use a leftover cut onion from the fridge. The moisture from a fresh onion is what holds the arrowroot on. A leftover onion will be dried out and the coating will not stick.
I have only used arrowroot powder, but cornstarch or tapioca starch should work as well.