Recently, we've had the amazing opportunity to try Euphoria's incredible olive oil- a fresh bottle from this year's harvest, pressed just two months ago in January, arrived at our office last week. We couldn't wait to try it!
The oil, made from 100% Greek Koroneiki olives, shines a gorgeous emerald green color and has a fresh, inviting grassy aroma. One sip and you know you are in for something good! Smooth, full and lush, this lovely artisanal olive oil coats your mouth with joy, one level of complexity unfolding after another, ending in a slightly peppery finish. This is a good sign as this peppery zing has been shown scientifically to indicate high levels of oleocanthal, a natural anti-inflammatory and antioxidant. This organic compound is part of a group of phenols, which contribute to the healthfulness of the Mediterranean diet.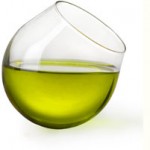 Enjoying Euphoria, you almost feel like you are right there in the small, traditional family grove that has seen ten generations (TEN!) of the Konstantopoulos family making this high-quality olive oil. This family is incredibly committed to doing things the traditional, time-tested way using truly sustainable methods of production that have never been harmful to the earth. On beautiful, rich fertile land, under gorgeous warming sunshine, chickens and goats mill about the grove in a sustainable paradise! We are absolutely impressed with this family's commitment to sustainability, excellent customer service, and an unbeatable, quality product. Attention to detail in every aspect of growing, production and packaging (dark glass bottles to protect the oil, harvest dates stamped on the packaging) impress us. We highly recommend that you give Euphoria Greek Olive Oil a try. Use as a dipping oil for lovely homemade sourdough or GAPS bread, as a healthful dressing drizzled over a salad or sliced avocado, and even by the spoonful.  You can buy Euphoria online at www.euphoriaoliveoil.com
Euphoria Herbal Dipping Oil
by Amy Love, Real Food Whole Health
About ¼ cup Euphoria Olive Oil
Dash of good quality Balsamic vinegar (to taste), optional
2-3 TBL chopped fresh herbs- rosemary, thyme, marjoram, etc
Generous sprinkle of coarse unrefined sea salt
Nice crack of freshly ground black pepper
Add ingredients together on a small plate and dip away! Crusty homemade sourdough bread, GAPS bread or even chopped cauliflower all enjoy a trip through this dip- and your mouth (and body) will thank you!
Disclosure: CMP.LY/2